So what if I don't like to Cook!
Mar 7th, 2014 | By
Aditi Pathak
| Category:
Articles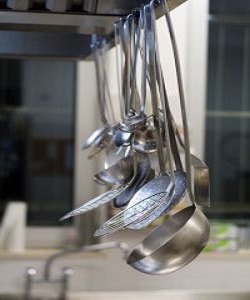 Well, the title kind of  gives it away!
I am a married Indian woman who doesn't like to cook. So before you raise your eyebrows, or become all judgmental about me (I can already feel the thoughts running in some of your minds – Indian women should like cooking, they are anyway born to do that!), let me tell you a little bit about me. I was born in an average middle class family where people ate to live, and thankfully it was not the other way around where people live to eat, and the ladies of the house have to face the perpetual question: Nice lunch, but what's for Dinner?"
As a young girl, I was happy being not in the kitchen, and even happier being with my books. By the time I was eighteen, I managed to get through to one of the top colleges of the country, and gladly moved out of my house.
When you are young and out there to explore, food is never a priority. At least it wasn't for me. But it was also the time that I realized that I need to eat well to lead a balanced life, and began experimenting with cooking.  I started with putting standard masala in all my curries and semi-cooked rotis, which I thought tasted awesome.  Well, the trend continued. While I never liked to cook, but I did manage to prepare all my meals and even pack my 'dubba' to office. People always appreciated the effort that I'd put in my cooking but hardly anyone liked the taste. And honestly I never cared.
Like all good things, my nonchalant attitude towards food had to come to an end. This change happened about 2 years back when I got married.
All those who have been married – at least once – know what a game changer the big 'M' is. I knew my husband for almost a decade before we decided to tie the knot, so I thought I knew him pretty well. What I never realised about him was the fact that he was a big foodie. For days after we got married, I would wonder,"Why didn't I ever come to know this about him?' Maybe I was too busy getting wooed to notice his eating habits."
Unfortunately, for him, he married me.
Every day seemed like a battle, beginning from getting the ingredients, to getting the daily supplies, to deciding what to cook and to the actual cooking. My rotis were never round and till date they aren't. My dal was not the dal his mother made, the subzi was always almost burnt. Everyone in his family was horrified at my non-existent skills. A daughter-n-law who could'nt cook! That was blasphemy.  And the truth is that the harder I tried, the more I failed.
Then, one day it all changed. No, I didn't become a great cook but I accepted myself for what I can and cannot do.  It's not that I cannot cook, but I don't like to. More importantly, it was the realization about what I wanted to do. Anything in life that we do is not worth the effort if we don't want to do it. Forcing yourself to like something will never make you love that. I decided, I'll cook when I want to, and not because I have to. I have always chosen what to do in life, and have always done what I wanted and that's the way I have been programmed and nothing can change that.
Once I was at peace with that, kitchen didn't look like that bad a place either.
(Image Courtesy: piovasco from sxc.hu)