It's Oscar Time. Again.
Mar 1st, 2014 | By
Shredder
| Category:
Affairs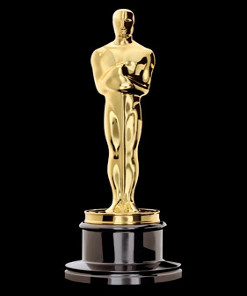 Its Oscar time! With the 2nd of March nearing, Oscar fever has reached dizzy heights. When we think of the Academy awards, the expectations are usually sky-high. There is no reason not to. In its 86th year now, the Academy awards ceremony is one of the most anticipated TV events of the year. A star-studded red carpet, a witty host who should be funny throughout while trying not to over-do his/her act, the media frenzy, the glitz and glamour, the costumes and their designers, the countdown to the ceremony, the speculations about winners in each category, the special tribute given to worthy artists – are all part of the whole Oscar viewing experience.
The Academy has picked famous talk-show host Ellen Degeneres to conduct the awards ceremony this year. Seth Macfarlane did a pretty decent job last year, pulling out all the tricks from his bag but was not able to match the expectations of the viewers. Let us hope that Ellen can survive the wave of expectations and conduct the ceremony in an amicable and memorable manner.
That being said, now it's time I get down to my predictions for the Oscars this year. I intend to improve my track record with this year's predictions (they were all over the place last year). So here it goes.
Best Animated Feature
The Croods (Chris Sanders, Kirk DeMicco, Kristine Belson)
Despicable Me 2 (Chris Renaud, Pierre Coffin, Chris Meledandri)
Ernest & Celestine (Benjamin Renner, Didier Brunner)
Frozen (Chris Buck, Jennifer Lee, Peter Del Vecho) – Winner
The Wind Rises (Hayao Miyazaki, Toshio Suzuki) – Second choice
I am rooting for Frozen here, because it seems like the complete package – entertaining, engaging and visually brilliant.
Best Costume Design
American Hustle (Michael Wilkinson) – Winner
The Grandmaster (William Chang Suk Ping)
The Great Gatsby (Catherine Martin) – Second choice
The Invisible Woman (Michael O'Connor)
12 Years a Slave (Patricia Norris)
All worthy contenders here, but I have an inkling that American Hustle will be rewarded for accurately capturing the essence of the Abscam in the 70s. The Great Gatsby may also get a nod because it was indeed a delight to watch actors in pristine costumes prancing all over the screen while Leo Dicaprio was looking all evil.
Best Film Editing
American Hustle (Jay Cassidy, Crispin Struthers, Alan Baumgarten) – Second choice
Captain Phillips (Christopher Rouse)
Dallas Buyers Club (John Mac McMurphy, Martin Pensa)
Gravity (Alfonso Cuarón, Mark Sanger) – Winner
12 Years a Slave (Joe Walker)
For being extremely crisp and entertaining, I would go with Gravity for this award category. Simply because Gravity dealt with just one story arc which needed to be handled delicately (did'nt have much to work with). I would also be tempted to give American Hustle a nod, because it does a great job at being compelling yet mysterious enough to keep you engaged all through the movie. A grippy narrative must ensure that the viewer does not think of popcorn or Pepsi, and I believe the two movies I have picked make sure of that.
Best Adapted Screenplay
Before Midnight (Richard Linklater, Julie Delpy, Ethan Hawke)
Captain Phillips (Billy Ray)
Philomena (Steve Coogan, Jeff Pope)
12 Years a Slave (John Ridley) – Winner
The Wolf of Wall Street (Terence Winter) – Second choice
As much as I would like the Before Midnight team to win this one, I feel this one is again going to go the way of 12 years a Slave. It is a demanding ask to treat a slave-period screenplay and my gut feeling says that 12 years a Slave will win this one. I would not count out Terence Winter for The Wolf. Since it may not be able to win in other categories, the Academy may vote in favor for it by giving it the screenplay accolade. This one is really tight and can go any which way actually.
Best Original Screenplay
American Hustle (Eric Warren Singer, David O. Russell)
Blue Jasmine (Woody Allen) – Winner
Dallas Buyers Club (Craig Borten, Melisa Wallack)
Her (Spike Jonze) – Second choice
Nebraska (Bob Nelson)
The only reason the Academy may go with Spike Jonze over Woody may be because of Woody's recent controversy (Dana Farrow's molestation allegations) and his indifference towards the Awards in general. Spike Jonze may be rewarded for a brilliant original screenplay which has captivated audience worldwide. The very idea of getting Scarlett Johansson to do a voiceover for his movie should be good enough to give him an Oscar or even two (she is beyond brilliant). 'Her' is a novel attempt at crafting a future which does look really plausible now. Spike Jonze takes enough care to keep the audience engaged without making it all seem fictitious and futuristic. Woody Allen doles out another one of his gems with Blue Jasmine. Equally compelling, not so novel though. It's either Jonze or Woody for this one. My vote goes for Woody.
Best Actor in a Leading Role
Christian Bale (American Hustle)
Bruce Dern (Nebraska)
Leonardo DiCaprio (The Wolf of Wall Street) – Second choice
Chiwetel Ejiofor (12 Years a Slave)
Matthew McConaughey (Dallas Buyers Club) – Winner
I am strongly inclined towards Matt McConaughey taking home the prize this year for Dallas Buyers Club. It is not just due to the weight-loss however. McConaughey, in a role of a lifetime, comes up trumps playing the role of a rodeo-cowboy turned AIDS activist. The movie rides almost entirely on his shoulders (with praise-worthy support from Jared Leto) and his performance ensures that you stay hooked to your seats till the very end. That Leo Dicaprio is long overdue on an Oscar win is something everyone in Hollywood is well aware of. The Academy may sway to his side for this very reason, not to discredit his awesome performance in an unnecessarily long and equally unnecessarily explicit movie.
Best Actress in a Leading Role
Cate Blanchett (Blue Jasmine) – Winner
Sandra Bullock (Gravity)
Judi Dench (Philomena)
Meryl Streep (August: Osage County)
Amy Adams (American Hustle) – I want her to win
This is a one horse race really, unless the Academy wants to surprise one and all. Cate Blanchett has won almost every award leading to the Oscars for her magnificent portrayal of a neurotic socialite in Blue Jasmine. She has Woody Allen to thank for it though, for crafting a memorable role and casting Blanchett for it. From the looks of it, she's the overwhelming crowd favorite and it is most likely that she will win this one hands down. However, I would like Amy Adams to win this one. Because I feel the Academy should recognize all her powerful performances, this year and the last (Her, The Master and American Hustle). I know it's an emotional pick but I really really feel Amy Adams deserves a nod. She's the Leo Dicaprio of the women's category and it's been hard to see her lose out so many times.
Best Actor in a Supporting Role
Barkhad Abdi (Captain Phillips)
Bradley Cooper (American Hustle)
Michael Fassbender (12 Years a Slave) – Dark Horse
Jonah Hill (The Wolf of Wall Street)
Jared Leto (Dallas Buyers Club) – Winner
I am not even going for a second choice for this category. Jared Leto is the overwhelming favorite for his transvestite AIDS victim role in Dallas Buyers Club. For those who haven't watched the movie yet, watch it for Jared's brilliant portrayal. The weight-loss, the complex character, the strong screen presence (not letting McConaughey steal the show), Jared holds his own and gives a power-packed performance.
Best Actress in a Supporting Role
Sally Hawkins (Blue Jasmine)
Jennifer Lawrence (American Hustle) – Winner
Lupita Nyong'o (12 Years a Slave) – Second choice
Julia Roberts (August: Osage County)
June Squibb (Nebraska)
This is a tricky one. Although Jennifer Lawrence looks the firm favorite to win it this time, I would not count out Lupita Nyong'o for the gritty portrayal of a slave girl in 12 years a Slave. The way the Academy leans on this one will give an idea of how the other more important awards will go. It will tell us whether popular cinema will be recognized over critically acclaimed cinema or vice versa. Make no mistake, Jennifer Lawrence spits fire whenever on screen in American Hustle. She brings with her a vibrancy and effervescence that can be matched by few others. Let's hope she doesn't crack a Meryl Streep joke this time around.
Best Director
American Hustle (David O. Russell)
Gravity (Alfonso Cuarón) – Second choice
Nebraska (Alexander Payne)
12 Years a Slave (Steve McQueen) – Winner
The Wolf of Wall Street (Martin Scorsese) – Dark Horse
This is a tough one, considering all of them are serious contenders. My pick is Steve McQueen for 12 years a Slave. However, considering Life of Pi won quite a few awards last year, I would not rule out Alfonso Cuaron winning it for Gravity this time around. The Academy may distinguish the Best Director from the Best Picture and try to reward two different parties this year(like last time). That being said, Martin Scorsese may have the last laugh by walking away with the prize for The Wolf of Wall Street.
Best Picture
American Hustle
Captain Phillips
Dallas Buyers Club
Gravity – Second choice
Her
Nebraska
Philomena
12 Years a Slave – Winner
The Wolf of Wall Street – Dark Horse
As much as I would want American Hustle to win this one, 12 Years a slave makes a compelling first choice considering that it deals with a complex social issue and is a story of triumph against all odds. Another point in its favor may be the fact that it has been a while since a slavery-based movie has been nominated for this category. That being said, if we were to consider popular appeal and technical brilliance over complex content presentation, Gravity would be taking away the prize considering its widespread popularity, its commercial success, and its technical brilliance. The Wolf of Wall Street may turn out to be the dark horse in this race however. Since the Academy is trying to strike a balance between critical and commercially successful films, it may go ahead with The Wolf this year. However, I would still stick to my guns and say that 12 years a Slave has the best chances.
And so there we have my predictions. You may have your own (which you can leave in the comment section below). Do not miss the Oscars. It's as good a treat as watching any of the movies it recognizes. May the best prediction win!