Fast & Furious 6 – A Review!
May 28th, 2013 | By
Shredder
| Category:
Movie Review
,
Uncategorized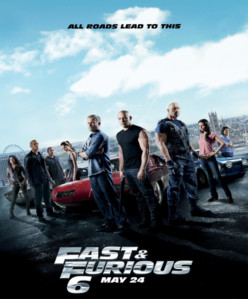 After a commercially successful Fast 5, director Justin Lin brings to us the sixth installment of this stylish and hugely popular franchise amid much fanfare. And he does not disappoint one bit. The stunts are bigger, the car chases are longer and the villains are meaner. Fast & Furious 6 has all the ingredients in the right mix to become a summer blockbuster.
Fast & Furious 6 begins with inspector Hobbs (Dwayne Johnson) presenting Toretto (Vin Diesel) with an offer he can't refuse – to help him catch an international car crew headed by a mastermind named Shaw (Luke Ewans). This sets the stage for a series of car chases and "Toretto crew – Shaw crew" standoffs, where each sequence better than the previous one.
Where Fast & Furious 6  differs from its predecessors is that it gives due importance to character development. In a very succinct way, it manages to link many of the characters from the previous editions in order to bring a logical end to many of the open threads. However, this may not sit very well with some viewers as it tends to shift the focus of the narrative away from the adrenaline pumping high speed car sequences in an attempt to give more depth to the recurring characters in the franchise. Surprisingly, everyone gets enough screen time to showcase their abilities and emotions.
Pros
Plenty of high-speed car sequences which are a trademark of this franchise.
Enough of comedy to keep you engaged when the cars are not on screen.
A real badass villain who is always two steps ahead of Toretto and Hobbs, keeps you guessing at all times.
An out-of-the-world climax sequence in the military airbase.
Cons
The movie drags at times when love is in the air. Be it the Toretto-Letty storyline or the Shaw-Letty storyline or the Gisele-Han storyline. The treatment is very Bollywood-ish with an excess of emotional drama at times.
Bottomline – A must watch for all the franchise lovers. This one has to be watched on the big-screen. Go for it!
Rating – 8.0/10