Bombay Talkies – A Review!
May 5th, 2013 | By
Shredder
| Category:
Movie Review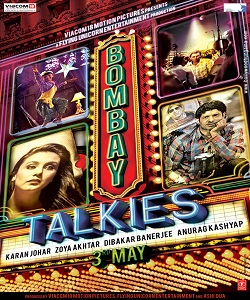 When a film, like Bombay Talkies, claims to be a tribute to 100 years of Indian cinema, it raises the expectations of the audience. Although Bombay Talkies doesn't fall flat, it barely manages to stay afloat all through.
When viewed in isolation, without the burden of the insanely high expectations, Bombay Talkies is a good movie. It is a good movie because it is a brave and a crisp attempt to venture into uncharted territories, with each of its four stories. The coming together of four successful directors to tell stories connected to Bombay and Hindi movies is a novel idea. But unfortunately, that is where the novelty ends. None of the four stories take on the major recurrent themes of Indian cinema – be it the love story theme, the musical theme, or the action hero theme. Each story talks about an obscure scenario of a struggling soul in Bombay. Also, one of the four stories is not linked to movies in any which way. These are the reasons why one would question the credibility of calling this movie a tribute to Indian cinema.
Positives
Nawazuddin Siddiqui gives yet another impressive performance as the struggling theater artist in Dibakar Banerjee's story. Zoya Akhtar's story about a kid trying to realize his dream – and the obstacles he faces – is touching in parts.
Karan Johar's story, although brash and in-your-face, has some really witty wordplay and some good performances. Anurag Kashyap tells his story in a very Kafka-like manner, which for me is a new beginning for mainstream Hindi movies.
Negatives
A weak story-line in two of the four stories, saved only by incredible performances by the actors. The movie has a patchy feel to it. It looks classy at times and very raw and grind-house-ish otherwise. The expectation from each story that it could have tapped into Hindi cinema in a much better way is something which will work against this movie.
Surprises
The Randeep Hooda lip-lock. I wont say anymore. Its a surprise <hush hush>.
The 'Bombay Talkies' song after the ending credits.
Bombay Talkies in no way can be called a tribute to Indian cinema. It can be called a set of interesting tales set in Bombay, at best. Watch it if you are in the mood to try something which is different, but not necessarily good-different.
Rating – 6.5/10
(Images: from the Internet)