Kissing Ass: The Art of Office Politics – Book Review!
Feb 8th, 2013 | By
Shredder
| Category:
Affairs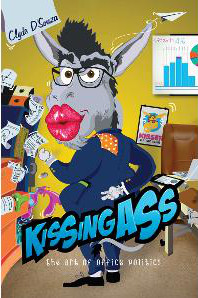 This is not one of your run-of-the-mill self-help books. However, in its own blunt and in-your-face manner, it does give you some really essential insights on how to survive/circumvent the day-to-day challenges that office life throws at you.
Synopsis
The author takes an unconventional route in presenting the content in each of the chapters – hilarious illustrations, FAQs (of a different kind) and application of management models on mundane everyday situations. This style of delivery is what clicks and retains the interest of the reader till the very end. Had it been in the conventional prose format, it would have been hard to retain the reader's attention past the first few pages.
Pros
Credit to the author for having so vividly described so many of the dicey scenarios faced at work along with hysterical yet semi-sane advice on how to wriggle out of such situations unscathed. The writing is laced with the right amount of humor (can get a bit lewd at times though). The first few chapters set the tone for the rest of the book. It is original. It is raw. It is in-your-face and it is a compelling read.
Cons
Some of the illustrations are quite extreme and could have been sobered down a bit (but that's me). The second half of the book does not live up to the humor levels set in the first half. Maybe a re-ordering of the chapters would have helped. The author treads the fine line of giving advice while keeping the humor intact for most of the book, but he does falter on more occasions than one.
All in all, it is a fun read and is recommended for those who are new to the corporate world and are clueless about the 'Office habitat'. Folks who have already spent years in the corporate jungle will be able to relate to many (if not all) of the instances mentioned in the book.
Go grab a copy soon.
(Image courtesy: Internet)