And the Oscar goes to…
Feb 23rd, 2013 | By
Shredder
| Category:
Affairs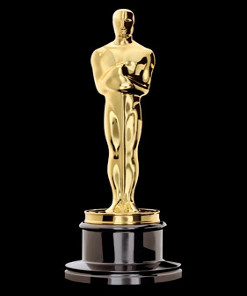 It's that time of the year when the Academy of Motion Picture Arts and Sciences recognizes and rewards members of the film fraternity who have made their mark in the year that has gone by. Millions of viewers eagerly wait for The Oscars to be televised to see if their favorites are going to win it this time (last year, The Oscars was broadcast live in more than a 100 countries).
"Who would win the Best Actor?", "Which film will walk away with the maximum honors?", "Will the Academy follow the Golden Globes or the BAFTA when giving out the awards?" – and many more of these questions run through our minds as we wait with bated breath for the 85th Annual Academy Awards ceremony to be held at the Dolby theater (previously known as the Kodak theater).
Like everyone, I too have my set of Oscar predictions for all the major categories – praying for my favorites to win. Well, without further ado, let us dig into the nominations for this year's Oscars.
Best Supporting Actress
1. Amy Adams – The Master (second favorite)
2. Sally Field – Lincoln
3. Anne Hathaway – Les Miserables
4. Helen Hunt – The Sessions (my pick)
5. Jacki Weaver – Silver Linings Playbook
Helen Hunt is most likely to walk away with the award this time, for she has a meaty full-length role in The Sessions. The other heavyweights in this section are Sally Field for Lincoln and Amy Adams for the Master. Anne Hathaway winning it for a musical seems very unlikely. Jacki Weaver does well but is eclipsed by De Niro in many of her scenes in Silver Linings Playbook. Amy Adams, with her fourth nomination in 8 years, may finally be recognized by the academy this year. It's a tussle between Hunt and Adams.
Best Supporting Actor
1. Alan Arkin – Argo
2. Robert De Niro – Silver Linings Playbook
3. Philip Seymour Hoffman – The Master (my pick)
4. Tommy Lee Jones – Lincoln
5. Christoph Waltz – Django Unchained (second favorite)
Although Christoph Waltz waltzes through his part (that of a dentist turned bounty-hunter) in Django Unchained, he faces stiff competition from Philip Seymour Hoffman for his gritty portrayal in The Master. Alan Arkin is lucky to even get a nomination. Tommy Lee gives a power-packed performance but he may lose out as his role is not nearly as meaty as that of Hoffman and Waltz in their respective ventures.
Best Actress
1. Jessica Chastain – Zero Dark Thirty (my pick)
2. Jennifer Lawrence – Silver Linings Playbook
3. Quvenzhané Wallis – Beasts of the Southern Wild
4. Naomi Watts – The Impossible
5. Emmanuelle Riva – Amour (outside chance)
As much as I would want Jennifer Lawrence to win this one, this is a one-horse race with Jessica Chastain's overpowering performance in Zero Dark Thirty. Emmanuelle Riva playing the two-time stroke survivor in Amour may cause an upset.
Best Actor
1. Bradley Cooper – Silver Linings Playbook
2. Daniel Day Lewis – Lincoln (second favorite)
3. Joaquin Phoenix – The Master (my pick to win)
4. Hugh Jackman – Les Miserables
5. Denzel Washington – Flight
This is a close one to call. Joaquin Phoenix delivers the performance of a lifetime in a hugely complex role in 'The Master'. However, he is pitted against the seasoned two-time winner Lewis who portrays Abraham Lincoln with aplomb. Bradley Cooper is lucky to get a nod. Denzel Washington does well but not well enough to win this one this time. What might work in Phoenix's favor would be the fact that the Academy has already recognized Lewis twice before. Fingers crossed.
Best Director
1. Michael Haneke – Amour
2. Benh Zeitlin – Beasts of the Southern Wild
3. Ang Lee – Life of Pi
4. Steven Spielberg – Lincoln (my pick)
5. David O. Russell – Silver Linings Playbook (outside chance)
This one has Steven Spielberg written all over it. With Ben Affleck's absence from the nomination list, Lincoln is the heavyweight in this category. Silver Linings Playbook has an outside chance considering that Life of Pi will be rewarded in the visuals department. Benh Zeitlin for Beasts of the Southern Wild is lucky to get a nod (at the expense of Ben Affleck).
Best Picture
1. Amour
2. Silver Linings Playbook
3. Argo – my pick to win
4. Lincoln – outside chance
5. Life of Pi
6. Django Unchained
7. Beasts of the Southern Wild
8. Zero Dark Thirty
9. Les Miserables
10. Amour
Political thrillers have always been rewarded well by the Academy – a strong reason why Argo is the prime contender in this category. Another reason is that it covers up for not nominating Affleck in the Best Director category. Lincoln and Zero Dark Thirty would be worthy contenders but they fall short on some accounts. Lincoln – because it's a story that has been told time and again & Zero Dark Thirty – because of its controversial depiction of torture. Django Unchained is way too wild to be endorsed by the academy. For its sheer brilliant visuals, Life of Pi will be duly recognized in the special effects category. Beasts of the Southern Wild, Les Miserables and Silver Linings Playbook round up to complete the nomination list.
Overall, I expect Argo and Lincoln to score big this year. However, the Oscars have always been known to throw a surprise or two. All we can do is wait for the Oscars to unfold and be mesmerized.
(Image: from the Internet)