Nude and Other Short Stories!
Jun 14th, 2012 | By
Neo
| Category:
Short Stories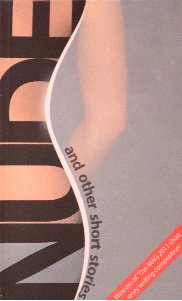 The MAG had organised the 1st Short Story Writing Competition for its readers. The contest got a good response, and the stories received were judged by an independent panel of Jury comprising of the following judges:
1.      Christopher Belton – A British national working out of Yokohama, Japan. He has been a full-time writer/translator since 1991, and has published close to fifty books as an author and more than seventy books as a translator.
2.      Divya Dubey  – A former student of MA English at St Stephen's College, Delhi University, and MA Publishing at Oxford Brookes University, Oxford. She started Gyaana Books, her own trade-book publishing firm in July 2009, which launched its first list in January 2010, at India International Centre, Delhi.
3.      Farhana Shaikh – The Editor of an online literary magazine, The Asian Writer, which supports and encourages writing from the South Asian community.
The winning entries, nineteen in number, have now been published by The MAG in book form.
About the book:
The book, as stated above, is a collection of nineteen (19) short stories dealing with different aspects of life. The following table lists the name, author, and brief storyline of each story:
| | | |
| --- | --- | --- |
| Name of Story | Author | One line – Story line |
| Nude | Purnima Rao | The victim of domestic abuse tries to figure out a way to come to terms with her fate, and move on with her life. |
| A Song of Vengeance | Kalpana Abhijith | A husband finds a way to even things up with his ungrateful wife, but to do that he has to pay the ultimate price. |
| The Snapper | Jeena R Papaadi | The story deals with the subject of death, something that continues to be an enigma for humanity. |
| The Perfect Girlfriend | Sidhartha Bharali | Ranvir finds a girlfriend who is ready to do anything for him, but is she the perfect girlfriend? |
| Of Dreams, and that thing called Fate | Himangshu Dutta | Life comes full circle for the protagonist whose actions condemn another to the same unfortunate life, he, himself has been leading. |
| Forever Cinderella | Jeena R Papaadi | Cindy finds out that happily ever after is possible, but not in the way it is depicted in fairy tales. |
| Epicentre | Jeena R Papaadi | Mrs. Mehta is bound to the wheelchair, but she is the epicentre of the lives of the people around her. But is that what she wants? |
| Fracture | Anindita Deo | The story talks about how daily events have the capacity to fracture our being into many. |
| The Lost Earrings | Kalpana Abhijith | Tushara loses her earrings, and she finds out that they have been stolen. But were they really stolen? |
| The Suicide Note | Vivek Singh | A writer gets so involved in his story that the reality becomes indistinguishable from the story. What happens then? |
| Karma Yogi | Neeshant Srivastava | Prabhu is a man who believes that, "work is worship".   But is such a belief relevant in today's modern times? |
| The Back Pocket | Mrinal Saurav | The story of a thief whose overconfidence in his abilities leads to an interesting turn of events. |
| Penance | Anubha Bhat | Sankalp has cheated many women in his life. But would he be able to leave a satisfied life, or will his sins catch up with him? |
| The Unfortunate Episode | Anubha Bhat | One incident can forever change your life. Sheela knew that, and yet she couldn't avoid what was in store for her. |
| Smoking Kills | Manoj Madhvan | Piu smoked only two cigarettes per day, and yet smoking killed her. Read the story to find out how. |
| A Friend in Need | Sudhamshu Hebbar | A series of emails turn the life around for Kishorechand Malikar, from Daulatwadi, Vidarbha. |
| The Travelling Suitcase | Manu Chaudhary | The story of a how one good deed deserves another. |
| Hunger | Priscilla Jolly | A mother's story, who is trying to find ways to feed herself and her little child. Will she succeed? |
| Memories of a Dying Man | G S Vasu | The chain of thoughts passing through the mind of a man who is on his death bed. |
The book is now available online, can be purchased from the Home Shop 18 website.