That Girl in Yellow Boots – A Review!
Sep 4th, 2011 | By
Shredder
| Category:
Movie Review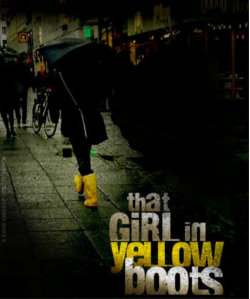 A gutsy foreigner girl survives in Mumbai doing an odd-job against the wishes of her mother, all in an effort to search for her father, more so, to search for that someone who cares for her. This is the backdrop of "That Girl in Yellow Boots" which is very real and captures your full attention initially.
Ruth (Kalki) is a survivor in the big city, who works in a shady massage parlor and doesn't mind giving the extra 'handshake' service to make an extra buck.
The movie is a time-slice of Ruth's life where she struggles hard, both as a foreigner in native land and as someone who is lonely and longs for unconditional love. How she manages her job, her eccentric boyfriend, the gangster who comes out of nowhere, the cop, the regular customer who cares for her, and the passport office officials makes up the rest of the movie. Kalki revels in this role (I am a major fan by the way). Her attempts to learn Hindi and her sustained efforts to look for her father seem genuine and you can't help but sympathize with this girl in yellow boots who puts up with all of it with a brave face.
Positives
Some very powerful performances from Kalki, Prashant Prakash (her boyfriend), Puja Swarup (as the spa owner) and the Kannadiga gangster (Gulshan Devaiah) who steals the show with an absolutely fantastic display of acting talent.
A very crisp and tightly held screenplay, not peppered with the usual mainstream songs which is a major relief.
The lighter moments during the movie are hilarious to say the least, with some very genuine situational comic sequences which help to tone down the serious aura that lingers around.
Negatives
Too many cameos (although most of  them are good), which are more of a distraction than a means to take the plot forward. Naseerudin Shah's role as the regular customer who cares for Ruth could have had more depth.
The plot in itself is a not multi-layered, which makes it tough to keep the momentum going on the solo track of Ruth looking for her father in the monster metropolis.
Its hard-hitting, bold, in-your-face, and leaves you queasy at the end. This is another one of Anurag Kashyap's masterpieces that you should not miss, if you have the stomach for it that is.