Mere Brother Ki Dulhan!
Sep 11th, 2011 | By
Neo
| Category:
Movie Review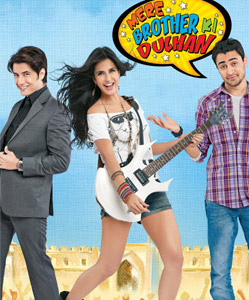 This is a movie which has Katrina Kaif as the lead star. That, by itself says a lot about the movie. Going by her roles in the past films, it would not be too wrong to infer that Katrina Kaif's main role in any movie is not to act, but to be cute on screen. She does that in this movie too, and does it better than ever before.
Imran Khan and Ali Zafar, the male protagonists in the movie, seem to have caught Katrina Kaif's affliction. Their focus in the movie is on being cute, rather than acting well.
The story is such that even if I was to tell you the whole of it, you really wouldn't mind because it is predictable, and without any major surprises. So, I won't bother to tell you anything about the story. Suffice it to say that the story is about two brothers and a girl they want to marry.
You will definitely start getting bored in the very first few minutes of the movie, but every now and then there will be a spark that will make you sit up and  give birth to a hope that the movie is going to take a turn for the better.
But, that turn never happens.
The casting director of the movie must be given credit, for he has managed to put together a cast that could, between themselves, weave the magic that results in a great movie. Unfortunately, the minor characters like Kanwaljit Singh (as Katrina's father) and Parikshit Sahni (as Imran and Ali's father ones) have roles that are predictable and cliched. Their acting talents have been wasted in the movie.
MBKD marks the writing and directing debut of Ali Abbas Zafar (different from Ali Zafar, the actor). Unlike many writers and directors who manage a super hit movie on their debut itself, Ali Abbas Zafar fails to impress. He will definitely have to work harder in his future endeavors to bring viewers to the cinema halls.
There are quite a few songs in the movie, but these are again near misses. They seem to have the potential, but fall just short of the mark. The songs, however, are a pleasure for the eyes as Katrina, Imran and Zafar look good in all of them.
All said and done, you should go to the theatre to watch the movie only if you are a fan of either of three main leads, otherwise you would do best by waiting till it is shown on TV.