Zindagi Na Milegi Dobara – A Review!
Aug 4th, 2011 | By
Aprajita
| Category:
Movie Review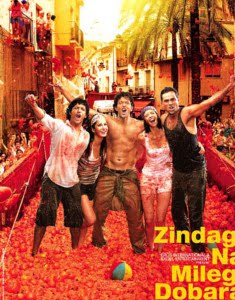 Dilon mein tum apni betabiyan lekar chal rahe ho
To Zinda Ho Tum
Nazar mein khabon ki bijliyan lekar chal rahe ho
To Zinda Ho Tum
Hawa ke khozo ke jaise azad rehna seekho
Tum ek dariya ke jaise lehero mein behna seekho
Hare ek lamhe so milo tum khole apni baahein
Hare ek pal ek naya lamha dekhe ye nigahein
Jo apni aankhoein mein hairaniya lekar chal rahe ho
To Zinda Ho Tum
Dilon mein tum apni betabiyan lekar chal rahe ho
To Zinda Ho Tum
Beautiful poetry written by one of the greatest poets and lyricist alive in our country today, Javed Akhtar, and rendered as eloquently by his multi-talented son Farhan Akhtar in the just released Zindagi Milegi Na Dobara. These lines sum up the emotions of the film perfectly. The movie has been directed by Javed Akhtar's daughter Zoya Akhtar.
The premise, if stated in one line, is not new.
Zoya's brother, Farhan, had made his directorial debut with a similar movie, Dil Chahta Hai, which presented the life of three male friends, their life and tribulations. ZMND is also an out an out male bonding film, with a slightly different take.  The three are school friends, who go for a Bachelor trip to Spain, right before one of them is getting hitched.
The whole movie revolves around the days these friends spend in Spain, and the changes these days bring about in their personalities. Some old demons get exorcised, some new relationships get forged, some secrets get revealed and some bonds get strengthened. The movie is all about life, and the way these lessons are taught, well, nobody would mind learning them.  All three face their worst fears on the trip and learn about bonds, family, love, friendship and dreams.
I am not going to reveal the secrets, but to experience what they experienced, one just has to go and see the movie.
Every experience is so beautifully captured that you feel a part of it. The cinematography is beyond brilliant in this one.
And if we talk about performances, every performance is top- notch. Even though the girls don't have much to do, but they have played their part well. The boys, well, it is difficult to judge who is better and who is not.  My vote will always go to Farhan, a personal favourite,  but Hrithik and Abhay are as good and well defined in their roles.
But the real clincher for me are the lines rendered by Farhan in between the movie, describing the mood of the movie. For me, they are the actual soul of this film – inspiring, engaging, entertaining, emotional, everything packed into one, without an abuse, without a Sheila or a Munni or a DK Bose.