Fighting corruption – The Lok Pal Way!
Jun 14th, 2011 | By
Ajay Sharma
| Category:
Affairs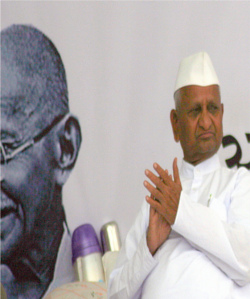 These days, the Lokpal Bill has become one of the most important national issues. The issue is grabbing the attention of anyone who is concerned with the betterment of the country. This is one of those few milestones in Indian democracy that, if achieved, will help in bring about the much required transparency in the whole democratic setup of the country. There is a lot of hue and cry about the Lokpal Bill in various spheres like Govt., media, Civil Society etc. The Civil Society, represented by Anna Hazare and his team, are trying their best to clinch the deal with Govt. in the best possible manner, so as to have an effective bill, although, till now, the path of drafting the bill has been very rough, with lots of ups and downs. In the coming days too, it is not going to be easy for both the parties (Civil Society & Govt.) to come to a consensus, and there is a continuous heated exchange of comments between the Govt. and the Civil society. In spite of all the exercise being done by the Civil society and the Govt. to draft a bill, there is a long way to go before a desired end i.e. passing of the bill in both the houses, is reached.
History
This is not for the first time that the Govt. has taken an initiative to draft this bill. This bill has been pending for the last many decades, and 10 attempts have been made in the past to pass the bill but it could not be passed due to opposition from various parties. The Lokpal Bill has previously been introduced in 1969, 1971, 1977, 1985, 1989, 1996, 1998, 2001, 2005 and as recently as 2008 in the Parliament, but the bill never got passed and has since been kept on hold. This shows how all political parties have neglected this bill, and instead have made their best efforts not to pass it, till date. This time, it's the pressure of civil society which has forced the Govt. to be serious about this bill. Hopefully, this pressure of civil society will eventually help the bill to pass in both the houses, though it doesn't look that easy.
What is Lokpal?
Let us try to understand the whole concept of Lokpal. Lokpal is a Hindi word for Ombudsman against corruption. This type of setup is already existing in many other countries. The Lokpal will be a three-member body with a chairperson who is or was a Chief justice or Supreme Court judge, and two members who are or have been High court judges or Chief justices. Lokpal will be at the central level and similar setups known as Lokayukta will be functioning at the state level.
Main Features of  the Lokpal Bill ( Source : India Against Corruption website)
1. An institution called Lokpal at the centre and Lokayukta in each state will be set up.

2. Like Supreme Court and Election Commission, they will be completely independent of the governments. No minister or bureaucrat will be able to influence their investigations.

3. Cases against corrupt people will not linger on for years anymore: Investigations in any case will have to be completed in one year. Trial should be completed in next one year so that the corrupt politician, officer or judge is sent to jail within two years.

4. The loss that a corrupt person caused to the government will be recovered at the time of conviction.

5. If any work of any citizen is not done in prescribed time in any government office, Lokpal will impose financial penalty on guilty officers, which will be given as compensation to the complainant.

6. Its members will be selected by judges, citizens and constitutional authorities and not by politicians, through a completely transparent and participatory process.

8. Any complaint against any officer of Lokpal shall be investigated and the officer dismissed within two months.

9. CVC, departmental vigilance and anti-corruption branch of CBI will be merged into Lokpal. Lokpal will have complete powers and machinery to independently investigate and prosecute any officer, judge or politician.

10. It will be the duty of the Lokpal to provide protection to those who are being victimized for raising their voice against corruption.
The Lokpal Bill if passed, will definitely help in reducing corruption, and the Civil Society is rightly putting pressure to make a tough bill to effectively deal with the corruption. A tooth less bill, even if passed, will be of no effective use and will defeat the very purpose for which the bill is being drafted. Similarly, it will be very difficult to pass the bill as the drafting committee is continuously going on introducing tougher conditions. This will also defeat the very purpose. So, there is a need to device a balancing equation to draft a tougher bill which will hopefully be passed in both the houses. Don't you think?
(Image courtesy: Ramesh Lalwani)