Who will win the World Cup, 2011?
Mar 8th, 2011 | By
Neo
| Category:
Affairs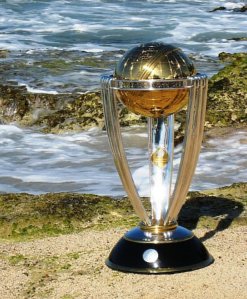 The World cup, 2011 has entered the third week, and this time there have been no major surprises, except for Ireland who have managed to cause quite a stir by causing the only upset of the tournament till now by beating England in a game that saw more than 650 runs being scored.
Before the World Cup had actually started, India, England, and Australia were the likeliest to lift the world cup, and in that order too. In the past three weeks, nothing has changed. Most teams have played as was expected from them.
The team that seems to have run into a spot of bother is England. They have not been able to win a single match comfortably. In their first match against Netherlands, they were set a stiff target to chase, and it took some them 48.4 overs to win that game. In their second match against India– a match between two great batting sides – they faced the daunting task of chasing a score of 338 to win. To their credit, they put up a great batting performance, but could not manage to convert their effort into a win. The game however turned out to be the most exciting this world cup has seen, and ended in a tie.  Then, once again against Ireland, England gave a demonstration of how good a batting side they were, but once again they floundered in the fielding department and allowed Kevin O'Brien to run away with the match. Finally, their batting collapsed in Chennai, on a pitch that was helping bowlers for a change, but this time England managed to bowl well and beat South Africa in a low scoring match. Having four close games back to back so early in the tournament can be draining for any side. Even before the tournament, one could hear whispers about England's best having come just before the World Cup during their tour of Australia. These whispers have gained strength now, and England will have to overcome this additional mental block in order to become the champions.
South Africa is a side that has had the capability of winning almost every world cup they have played, yet they have never managed to do so. For many years, they have carried the nickname of "chokers" and Graheme Smith, along with his teammates, has worked hard over the past couple of years to shed that image. However, it seems like that they might need more work before they are able to do so. They were doing well in their match against England, but could not convert a good effort into a win. It looks like the proteas have still more work to do before they can become a World Cup winning side.
India makes up for the one sixth of the world population, and cricket is the one of the few games that India plays well. Therefore, it is no surprise that a large number of cricket lovers are rooting for India this time around. Many people would love to see India win, if for no other reason than to see the World Cup in the hands of the little master. Sachin Tendulkar has consistently been one of the best batsmen in world cricket for the last twenty years, yet he has not been able to be a part of a world cup winning side. He would love to change that, and so would his fans, especially since this  is going to be the last world cup for the great man. Emotional reasons aside, this Indian side definitely has the batting firepower to post huge totals on any pitch, but the bowling and fielding departments seem to be lacking the edge. However, no bowling side seems to be comfortable bowling on these batting friendly pitches, and India might be able to make the best use of familiar grounds and familiar conditions.
Australia, however, will try their best to dash Sachin's dreams and would be looking to win their fourth successive  world cup in a row. Even though the Australian side has lost the unbeatable image they had been carrying for long, they still seem to be one of the strongest contenders for the World Cup. They are good in both the bowling and the batting departments and it will be a challenge for any side to beat them.
Before the World Cup started, no one would have given either Pakistan or West Indies much of a chance of winning the World Cup, but both the teams have proved in the games they have played till now that they will be no pushovers. However, both these sides do not seem to have what it takes to win the World Cup. They might be able to pull off some good matches, but winning the World Cup seems to be a long shot for them.
2011 is India's best chance to replicate the achievement of the Indian cricket team that brought home the cup in 1983. However, India needs to be wary of Australia and England who would try to do everything in their power to keep India away from the cup that matters.