127 Hours – The Non-review!
Jan 30th, 2011 | By
Vivek Singh
| Category:
Movie Review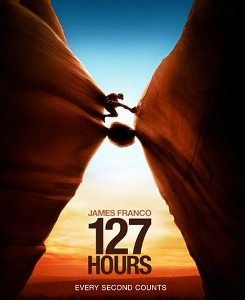 "There must be some f&%#ing chemical, chemical in your brain, that makes us different from animals…" are the lyrics of the opening track of the movie 127 Hours. The movie celebrates human life in the best possible manner. The soundtrack composed by Free Blood sets the mood racing, and within an instant the director conveys the message that with will power we can survive anything in our lives.
127 Hours, directed by Danny Boyle, is based on the true life story of American mountaineer and public speaker Aron Ralston. Aron Ralston played by James Franco gets trapped in an isolated canyon named Blue John in Utah, while on an adventure expedition. During the 127 Hours that he spends trapped in the canyon he displays utmost courage without panicking by surviving on a liter of water and few morsels of food. All the while he tapes himself on a video camera that he is carrying, for his family to see. Aron, even after being stuck in the canyon for three days comes up with the wittiest lines while filming himself on the camera.
The soundtrack composed by A R Rahman sets the tone of the movie. The music adds to the tension and the struggle that Aron goes through. As Aron hallucinates about his past and his future you can see his pain on the face of the person sitting next to you. Boyle uses the landscape brilliantly, and the music compliments the cinematography. The movie is based on the book written by Ralston himself – "Between a Rock and a Hard Place". The screenplay by Boyle and Simon Beaufoy is gripping, and the cinematography by Enrique Chediak and Anthony Dod Mantle will simply take your breath away. James Franco is brilliant as Ralston. The small things that Boyle captures, like the beads of water on the bottle of a Gatorade or Aron struggling to get a few inches of sunlight on his cold body, add to the tension and the desperateness that the audiences feel along with Aron.
Life is such, we don't know what will happen the next moment and still we fret so much about the future. We get very easily flustered with the small obstacles that we face in our daily lives and forget to enjoy our life. Each one of us has the will power to overcome all the obstacles we face and achieve the dreams that we have seen. But while doing that we should not forget our present, and live life to the fullest. This I guess is what sums up Aron's story.
127 Hours is a brilliant movie and is a must watch for everyone who is willing to enjoy life. Watch it if you want to get inspired by life. Watch it over and over again.