Kites – A Review!
May 21st, 2010 | By
Rahul Sarin
| Category:
Movie Review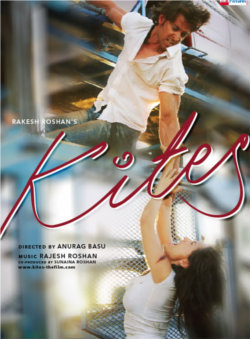 The phone rang and I knew who it was. I couldn't pick up because I was taking a shower but I knew what the person at the other end wanted to tell me. They had bought the tickets for Kites and the movie was to start in another 10 minutes. I'm one of those guys who need at least an hour to get ready. Not because I'm particular about how I look but I'm just too damn lazy. So, there I was, breaking away from my routine and pushing myself so that I could make it in time for the movie.
I ended up being 5 minutes late. I entered and saw Hrithik flirting with Kangana Ranaut. I gathered from my friend that I hadn't missed much. J (Hrithik Roshan) is a young, handsome guy who marries women (illegal immigrants) so they can get citizenship. He lies with ease and is looking for an easy way out of his impoverished life. Enter Bob (Kabir Bedi). Bob is your typical rich, arrogant man who runs a shady business and has the entire government machinery in his pocket. He runs a casino, is filthy rich and his family is as eccentric as he is. Tony (Nick Brown) and Gina (Kangana Ranaut) are Bob's kids.
Since I entered the theatre late, I don't really know how but J manages to successfully woo Gina and they are ready to tie the knot. Now is the perfect time for J to get friendly with Gina's family. Tony, Gina's brother is the villain in the movie. His level of eccentricity is slightly greater than his dad's. He's smug, rich and a brat. His idea of fun is to step down from his chauffeur driven car, shoot some poor fellow and walk away like a badass! He makes it look so simple that I'm considering this as an alternative to Facebook to pass my time. Natasha a.k.a. Linda (Barbara Mori) is Toni's fiancée. The first time J looks at her is when he is diving in the sea. She swims past him, completely captivating him. The next second, she does a P.C. Sorkar and vanishes into thin air!
A few minutes later, it's revealed that Natasha is one of the 11 illegal immigrants J had married. This is so casually shown that you could miss it even if you had your eyes glued to the screen. Tony treats Natasha like doggie poo, and she is with him for the money. When she was a kid, her dad passed away and now she has to support her family. And yeah, when J was little, he lost his mother. Sad, right? It was somewhere here that I realised that 130 minutes of my life were going to go waste. So, I exited and decided to grab some popcorn. When I returned, the movie was still where I'd left it. Hrithik and Barbara were dancing in the rain. Oh my, How romantic.
Kids! It's time to put your thinking hats on and imagine the rest of the story. I swear it isn't much of a challenge.
"They run away together and Tony goes on a rampage throughout the nation hunting them down", you ask? Bingo! You're right!
"Hrithik and Barbara rob banks, outrun police cruisers in pick-up trucks, jump onto hot air balloons from running cars, dodge sticky situations with ease and destroy more than two dozen police cars single-handedly", you ask? Booyah! You nailed it!
"Barbara drives her car over the edge of a cliff and Hrithik returns to that place after killing everyone and jumps to his death", you ask again? Time to hand over the certificate of appreciation to all of you… You got another one right!
If you've read till here you must have realised that I've basically let the cat out of the bag. This review is one hell of a spoiler! That's because I don't want you to spoil your mood and waste your time watching something which you can easily avoid. Although, if you relish cheap copies of Rajnikant flicks, then this is the film for you.
If it were the days of "Khoon Bhari Maang", I might have still given Kabir Bedi a pat on the back. But Bedi does not miss this opportunity and delivers yet another outlandish performance. There is no real reason for this character to even exist in the movie. Nick Brown as Tony is somewhat convincing as the retarded brat but the character is too loud. Kangana Ranaut hardly speaks. She does a P.C. Sorkar too, towards the end. I'll let you discover this yourself if you watch Kites. Barbara Mori has a beautiful smile and does act to some extent. Her dialogues are mostly in Spanish and there are subtitles for majority of the movie. However, I believe the makers of the movie realised that by the time the movie reaches its climax, the audience wouldn't care a bit if Barbara spoke in Spanish or Urdu. So, it's pretty frustrating when you see Barbara yap in Spanish with no subtitles to help you decipher what's going on. Hrithik needs to lose his silly "Raj Uncle" accent from Yaadein (anybody remember that?). He's acted well but it's not something extraordinary.
Overall, I'd give Kites a score of 2/5. The two points are for the camera work and some visually stunning scenes. The story is a dud and the performances are lousy. Give it a miss. I wish I had. Spending my time in the shower would have definitely been better than watching Kites.